F.A.Q on property buying and selling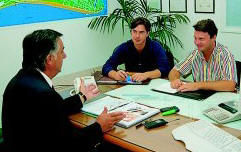 BUYING A PROPERTY:
Buying your dream home through us will give you the opportunity to choose from the best property available on the local market. We can also offer our clients advanced previews on many of our properties, so providing a greater choice.

SELLING A PROPERTY:
The advantges of selling your home through us...

First advantage
By entrusting us with the exclusive sale of your property, you will receive a free marketing and advertising package including:
a) detailed description of property with photo, in internet;
b) use of other communication and advertising means (e.g mailing and e-mail);
c) Personalised marketing if your property has distinguishing features;
d) Use of "for sale" signs and advertisements;
e) Your property will be advertised in local newspapers and magazines.

Second advantage
We will present your property to all our clients who have requested a property with similar features, (our database is updated on a daily basis). More importantly, by entrusting us with your property, the sale will be handled by several associated agencies. We guarantee a professional service, intensive and direct advertising and direct contact with buyers who have already expressed interest in similiar properties, resulting in secure, fast sales...and it won't cost you a penny!